If I'm honest, I can't remember mine but I love this photo of me on my first birthday.
​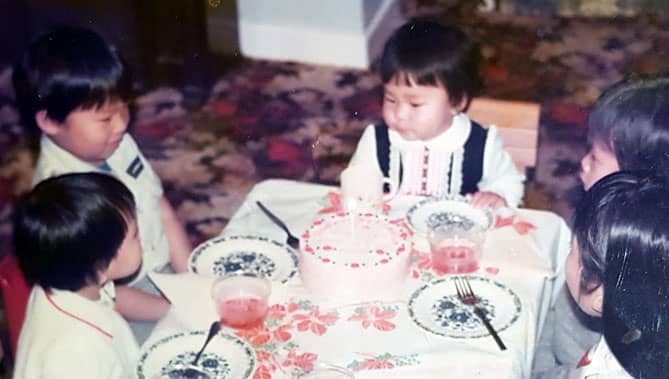 ​
My mum is so talented. She made all of our birthday cakes and they always went down a treat!
​
I'm so thankful that photos like these exist. Even when I do remember special occasions, it's moments like these that are captured by photo that makes it come alive again. My mum remembers making every single cake for our birthdays.
​
She always tells me she made them because she was so proud, not just making them, but the joy and happiness it brought to us and seeing us making a mess eating it! Reminiscing these moments with her always fills me up with love.
​
I'm lucky that I've been able to follow in my mum's footsteps and I want the same for you too. I know you love baking and cake decorating but you want to take your skills to the next level.
​
My goal is to use my years of experience, knowledge and skills to get you from A to B as effortlessly as possible. Why? Because I know exactly what it's like to see a picture and think, "I can make that"
​
You buy the ingredients, get excited, follow the recipe and then it looks nothing like the photo! You feel stressed, annoyed, confused and want to give up.
​
"Where did I go wrong and how can I fix this? Can I fix this?!"
To find out, you spend hours on the Internet, asking on FaceBook Groups, watching YouTube videos only to find you've lost hours searching for the answer.
​
I don't want that for you. I know you're an avid and keen baker. I know you're creative and have a passion for cakes. I know you can create anything you put your mind to.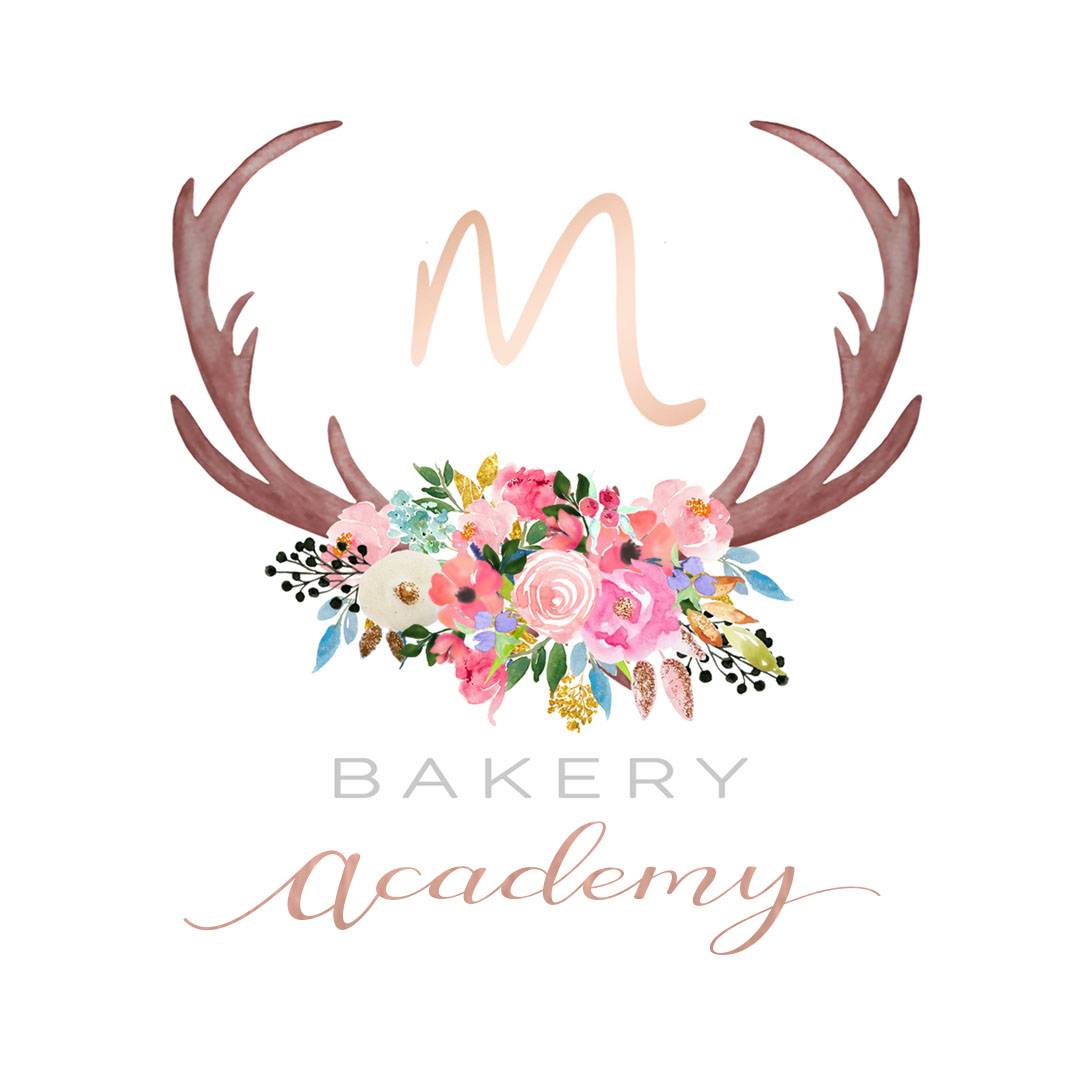 That's why I set up M Bakery Academy (MBA). To help passionate bakers like you to understand why things go wrong, how you can avoid them and hone in on your skills to master the techniques so that your cake is the one that people aspire to make.
​
Imagine that.
​
People use your cake photo and ask how to make it.
​
So whether you're a complete beginner or a bit more advanced, I'll be there to teach and help you get to where you want to be.
​
---
​
So what can I expect from M Bakery Academy?
​
M Bakery Academy will provide you with the resources such as templates, clear and easy to follow instructions, recipes and much more. With these tools, you get to save time and stress so that you can spend more time with your family and enjoy the celebration...even have time to take those all important photos of your cake for Instagram!
​
To begin with, you'll learn all of the basics and foundations of baking and cake decorating. Just like building a house, you need a good foundation to make it stable and understanding the science behind baking and cake decorating is the same but don't worry, it's not as daunting as you think!
​
With all of the basic knowledge learnt, you will start to build on your knowledge and skills so that you can take it to the next level. This will inevitably grow your confidence and who knows, you might become the go to person for cake orders and advice.
​
As I've tried and tested so many recipes and techniques along the years, there is sometimes more than one way to achieve a desired look. Within MBA I will show you them so that you get to practice and use the one that suits you best.
​
So not only will you get group sessions where I answer questions and provide you with the tutorials, you will get the chance to learn these techniques live with me on each monthly project (chosen by you). This way, you get the encouragement and support you need to improve, gain confidence and take it to the next level.
​
Outside of these sessions, you also get to be part of the M Bakery Academy baking family where each member gets to shape the community. Being around like minded people creates an environment that makes you feel valued and supported.
​
There is no silly question and I am always there to help and answer questions all the time so that you don't end up wasting time and energy looking on the Internet, YouTube or any other groups.
​
This membership is designed to get you from A to B as easily and effortlessly as possible so that you can feel really proud of your bakes, especially when you look back at your past photos.
​
You will learn the exact process that I use which includes my 3 Secrets to Baking Success so that you become the go to person for cakes.
​
​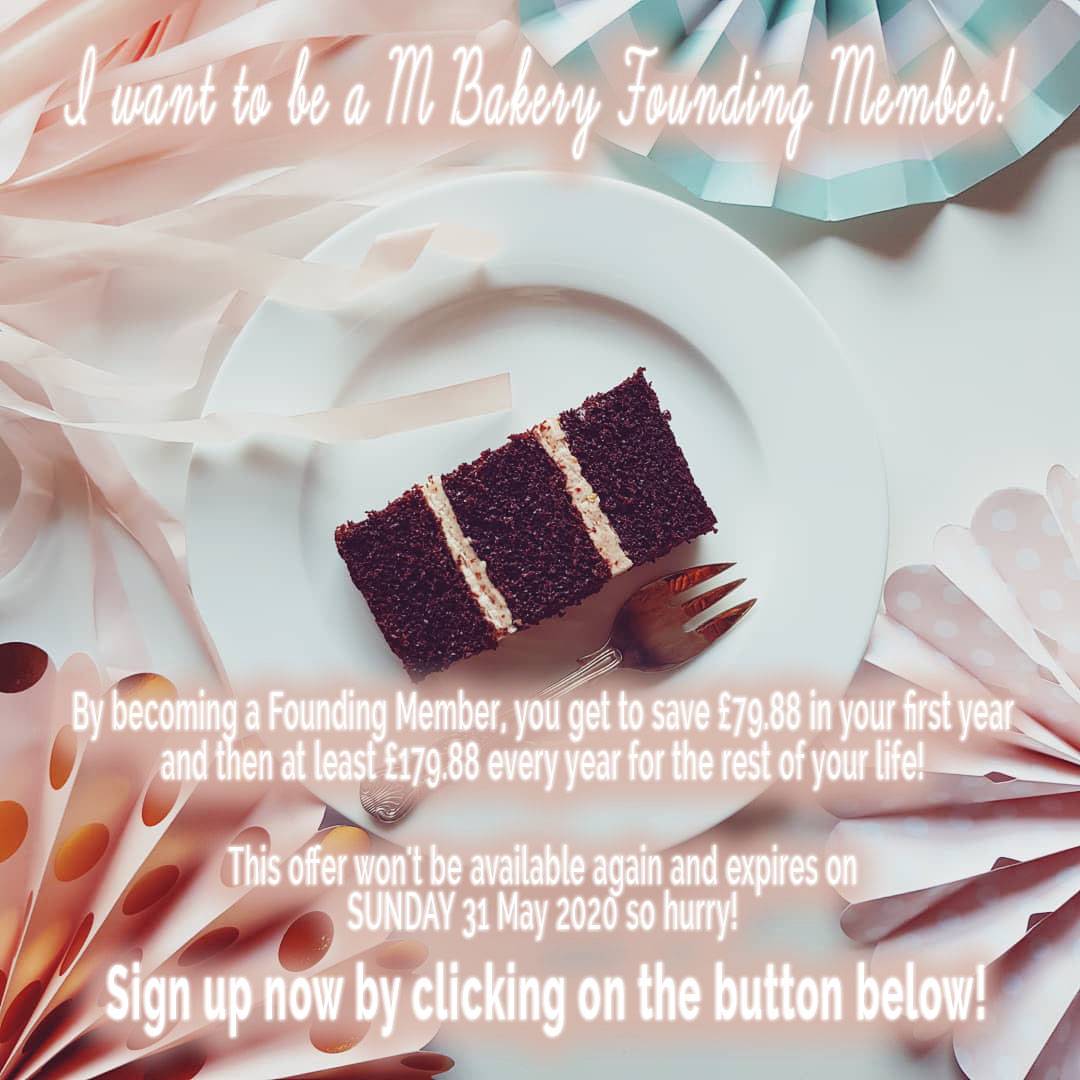 ---
​
How does MBA differ from other memberships?
​
Unlike other cake decorating memberships, I will be there to help and guide you every week in a live group session and answer all of your questions.
​
Not only that, every month you get to choose a project or we will design one together to help build your skills and confidence so that you can create endless celebration cakes.
​
With each project, we go through the basics, plan it around our hectic lives, set a date and make it together by having a cake decorating party (maybe with a glass of wine?).
​
If you can't make it, don't worry because there will be a replay of the live demonstration and at the end of the project, we will discuss any hiccups or issues that we can work on and incorporate into the next project. In addition to that, there will be full written instructions so that you can easily print them.
​
My goal is for you to get results, feel confident and have fun so that you can say "Yes, I made that!" And the best way to do that is to practice by guiding you through my 3 Secrets to Baking Success. Confidence is about being competent and that is exactly what you'll get in M Bakery Academy.
​
I also envision MBA to not only focus on cakes but desserts like cheesecakes, tarts and all of the other delicious desserts that are Instagramable and Pin worthy!
​
Other things on the list of things to come are how to put a mini dessert table together and how to price your cakes.
​
I would also love to invite other professionals such as florists to teach us about flower arranging, photographers on how to take professional photos to specialist bakers on how to make vegan and gluten free cakes. The list is endless...and of course, if you have any other ideas, I will look to make them happen too.
​
---
​
This membership is for you if...
​
You have a true passion for baking and cake decorating. You don't need previous experience or be naturally artistic. We are all artists. We just forgot how to be one when we became adults.
​
You love being around and connecting with people but don't worry if you're an introvert. I'm an introvert and I find cake decorating therapeutic and peaceful as I get to be lost in my own world.
You are open to learning and failing. Yes, failing. Failing is our journey to success so it's ok to make mistakes because that is how we learn and grow.
​
"Every master was once a disaster" - T Harv Eker
​
​
---
​
This membership is not for you if…
​
You know everything. That's awesome that you do but this is a membership for those who want to learn and encourage others on their baking journey.
​
You don't like putting in any effort and always find an excuse. I want you to get results and to do that, I'll be providing you with all of the necessary resources however I cannot do the work for you. Just the same as you want to be fit so I can show you how to do push ups but I can't do them for you.
​
Want to learn how to make character type cakes. As fab as they are and I've certainly made a few in my early years, my style is more towards contemporary and modern styles.
​
​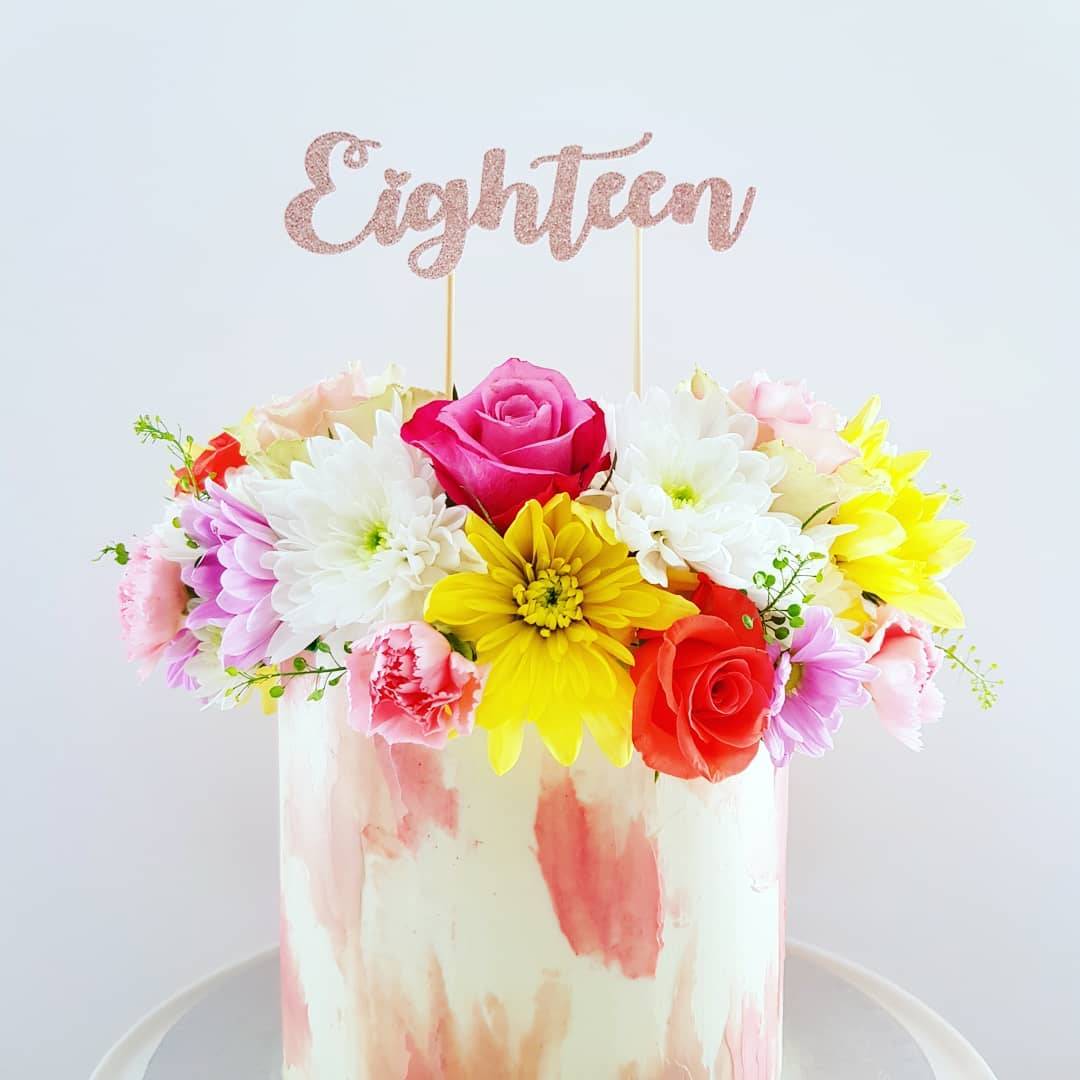 ​
---
​
Each month you will get...
​
In addition to the usual tips and tricks, my own recipes and tutorials (both in video and PDF format), you get:
​
one hour weekly group coaching calls where I help you on your next baking project or answer any questions to support you so that you can achieve your baking goals
​
monthly projects (chosen by you or we design it together) to learn and master baking and cake decorating techniques
​
competitions to show off your amazing skills so that you can feel more confident, even if you don't think you are (we are our own worst critics!)
​
become part of the M Bakery Academy baking family where we all help and support each other and share amazing moments. This is a key feature as it shapes the membership so that we all feel connected and valued
​
live cake decorating parties so I can demonstrate and help you with any troubleshooting on the spot.
​
---
​
Hi, I'm Mai.
(pronounced 'my')
​
​
​
Like most people, I've been baking from a young age and have always loved it. A few years ago, I made my own wedding cake which became the turning point of taking it seriously and created M Bakery.
​
I designed and made wedding and celebration cakes, got featured in Wedding magazines such as Your Bristol & Somerset Wedding and took part in styled photoshoots.
​
As much as I loved being part of someone's special day, I realised that I had more passion to help and teach others on how to bake and decorate cakes as I became the 'go to' person whenever someone had a problem.
Which is how the idea of M Bakery Academy was born.
​
---
​
​
​
Ashlea Hoang
​
"I love baking, my skills were OK and I am always trying to improve. More than anything it was a confidence thing and I think that stems from having self taught a lot of stuff. I especially struggle/d with levelling cake and butter creaming it without getting crumbs all through the icing.
​
I took away several great techniques. Solving a lot of my struggles such as how to level a cake (so simple, but such a fantastic skill) and avoiding crumbs in the butter cream. But the biggest take away was probably the drippy effect. I'd tried it before and failed. I've tried it since and I can now do it.
​
After a class with Mai, I feel more confidence, especially when it comes to certain skills. Drippy cakes don't scare me now, I feel pretty confident with them, thanks to Mai."
​
​
---
​
So how do I sign up?
​
Simple! By entering your name and email address in the form below and clicking on the pink button :)
​
You'll then be directed on how to enroll into M Bakery Academy.
​
​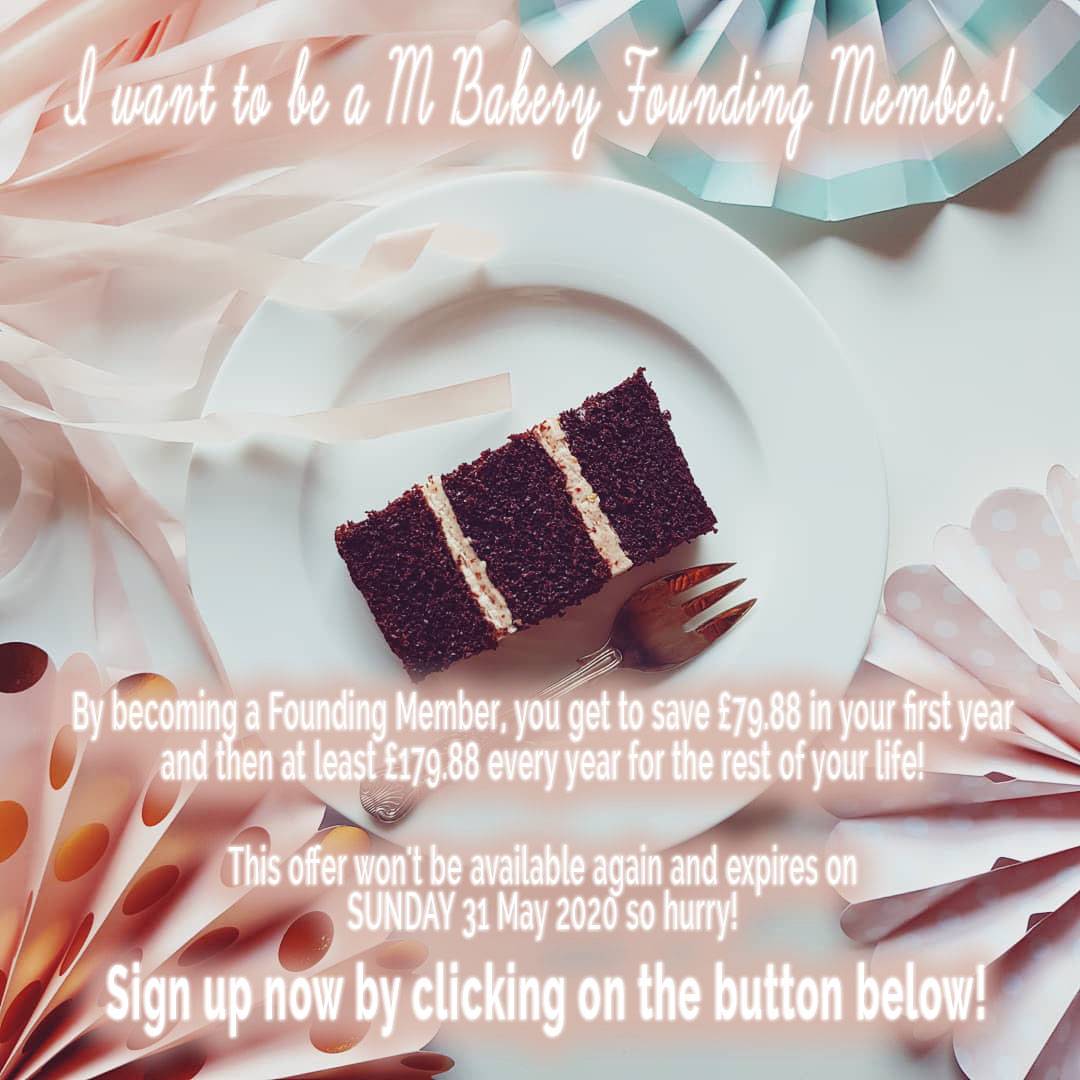 ​
---
OK cool, that sounds awesome but how much does it cost?
​
Well you're in for a real treat! Because M Bakery Academy is in its infancy (no content has been created yet), it means that if you sign up now, you get to become a Founding Member.
​
What does that mean?
​
It means that M Bakery Academy will be built and structured around you.
​
You tell me exactly what you want and I will create the resources you need to achieve your goals. My aim is to get you from A to B as effortlessly as possible but I will also need your help by providing me with feedback and insights to shape the community and membership.
​
But not only that, a Founding Member is a lucky person who gets to have an incredible deal. This means that you'll get to be a member for the life of the membership without ever paying a monthly fee like everyone else.
​
Wow that sounds exciting! So how much will this be?
​
As a Founding Member you get lifetime access to the membership for just £100!
​
*** But hurry because this offer is only available ONCE and expires on SUNDAY 31 May 2020 and there are LIMITED spaces.***
​
The reason why this offer won't be available again in the future is because the content hasn't been created yet. Once I have content available, this will increase the value that members will receive.
​
Additionally, there are only limited spaces available as I am only able to serve so many people. So by keeping it intimate whilst creating the content will enable me to understand your needs and you have more access to my time as a small group.
​
​When the membership launches, the monthly investment will be £14.99 (£179.88 pa) and will go up in the future. So that means you'll save £79.88 in the first year and then at least £179.88 every year for the rest of your life!
​
So this is the perfect opportunity for bakers like you who are ready to have lifelong support to not only release your creativity but to build knowledge on baking and cake decorating skills for a lifetime!
​
But that's not all.
​
If you sign up by 23:59 on THURSDAY 28 May 2020, you will receive a one hour 1:1 private tutorial session with me. This alone costs £100.
​
As our tutorial session will be completed over Zoom, it means that you will get a copy of the recording so that you can revisit it at any time, as many times as you like! For life!
​
Not enough?
​
As an additional bonus, if I create any courses that are for sale, organise local workshops or any other perks, you will be automatically upgraded.
​
Why?
​
Because I appreciate your trust in me.
​
If it wasn't for you, M Bakery Academy would not exist and so your support means the world to me which is why I want to pay you back as much as I can.
​
---
​
Amazing! But I don't have the time.
​
That's OK, I understand that we all have busy lives.
​
But what if I told you that when Justin and I decided to get married in six months' time, I was able to make my own wedding cake (despite not knowing much!), work full time as well as make all of the decorations and everything else that goes with wedding planning (including altering my own wedding dress!)!
​
What I found out during that time was I made it a priority to improve my skills but also do something that I absolutely love. The outcome was worth it because every time I look back at our wedding photos, I love the fact that I made our wedding cake.
​
I appreciate your time is precious. That's why my goal is to get you from A to B within the shortest time by providing you with the resources you need to make your next cake project a winner.
​
Within M Bakery Academy, you'll have access to me but also content that is structured around your needs which will be easy to navigate so that you don't waste time searching for the answer.
​
​
---
​
Baking is expensive and I don't have all of the tools.
​
Did you know that the ingredients for a Victoria sponge cake is less than £5? And you don't use all of the ingredients bought?
​
I totally understand where you're coming from. When I bought my first set of professional cake tools 9 years ago, I spent £60! That's a lot of money but I still have them and I've lost count how many times I've used them.
​
So yes, it is a bit of investment at first but the value you get from it is tenfold. Not just from its use but the ability it gives you to create something magical for your loved ones to the standard that you're proud to say "Yes, I made that!"
​
---
​
I'm not very creative so my cakes won't look good
​
It's not a matter of how talented or creative you are, it's a matter of being comfortable with how you express yourself and letting others see that side of you.
​
You might think that not being creative is a negative thing but it's actually great because you have more freedom to express yourself and have fun while you find your unique style. You never know, you may create the next big trend!
​
---
​
What if I change my mind?
​
No problem. Obviously I don't want you to leave but if you change your mind for any reason, there is a 30 day refund policy and you must show that you have worked through the projects within the membership. Just let me know why you wish to have a refund and it will be arranged to be paid back as soon as possible.
​
Just to let you know though, you will no longer have lifetime access to the courses and membership. If you decide to leave but wish to join again, you will have to pay the monthly membership cost at the time of rejoining.
​
---
​
Can I pay in installments?
​
As this is a once in a lifetime deal, a full payment of £100 is required.
​
Also, I'm looking for Founding Members who not only know an amazing deal when they see one but are also willing to learn, create and take part in shaping the membership and community.
​
---
​
I'm not a baker but I know someone who is. Can I purchase this as a gift?
​
Yes! Of course you can and how awesome are you?!
​
To purchase this once in a lifetime opportunity, simply email me at:
​
Let me know that you wish to purchase this as a gift and we'll take it from there.
​
---
​
I have some more questions...
Can I contact you?
​
Yes of course! Feel free to email me at:
​
Or send me a Direct Message:
​
Instagram
​
Facebook
​https://www.facebook.com/mbakerybristol​
​
---
​
Will you be offering this again?
​
I'm afraid not.
​
Which is why I would love for you to join right now! The doors to the membership will close on Sunday 31 May 2020 and I don't know when I'll be opening them again (it'll be at least in a year's time).
​
I am only offering a LIMITED number of lifetime spots into my membership as I want to keep it intimate and be able to serve you at a deeper level. Not just that, this will be the lowest price it will ever be.
​
When the membership is fully running, the cost will be £14.99pm (£179.88pa) and is likely to increase in the future.
​
By joining now, you get it at a steal of a price of £100 and have full lifetime access to everything I create within the membership. Not just that, this is a one off payment whereas everyone else who joins later on will have to pay monthly.
​
AND
​
If you join by 28 May 2020, you get a one hour 1:1 private tutorial with me, worth £100, that will be recorded so that you can watch it at any time and as many times.
​
And as an additional bonus, you will get an automatic upgrade to any additional perks that I include in the future like free spots to local workshops or online courses.
​
The only thing I ask that, as a Founding Member, you provide me with feedback and insights to help shape the community and membership. In return, I help you become a star baker so that you can say
​
"Yes! I made that!"
​
---
​
So what are you waiting for?!
​
Fill in your name and email address below and click on the pink button to become an M Bakery Academy Founding Member!
​
I'm super excited to have you!